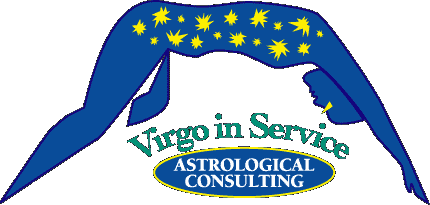 "Let astrology guide your understanding of Yesterday,
advise you Today, and reveal abundant, fulfilling Tomorrows."



Now Offering E-Readings,
an enlightening online Astrology Service

Seize the day and receive a multitude of astrological information in your e-mail inbox! Go Green! E-readings are useful tools for gaining insight about you or someone special. Try it!

Pay conveniently through

New for 2023 -
Free Mercury Retrograde Bookmark

Mercury Retrograde 2023 Dates
December 29, 2022 - January 18
April 21 - May 14
August 23 - September 15
December 13 - January 1, 2024

Click Here to - see online

Click Here to - download as jpg file
Welcome to Virgo in Service Astrological Consulting, a comprehensive astrology service, where my specialties include timely planetary forecasting, enlightening relationship compatibility, right livelihood, and insightful birth chart consultations. Gift certificates are available. A devoted baseball fan, I'm creating a unique niche, branching into sports astrology with excellent results. Be sure and visit my informative monthly horoscope column.





Let astrology create:

Appreciation of your uniqueness
Improved relationships with others
Better timed, wiser choices
Discovery of your right livelihood
Understanding of the ebb and flow of life cycles
I offer in depth personalized astrological consultations, as well as convenient telephone consults and taped recordings. Affordable astrological reports are available by mail or on the web. There's something available for everyone-to assist in the quest to explore strengths and potentials, unveiling your innermost essence. My specialties include:
Planetary Forecasting - current planetary positions and upcoming
opportunities

Relationship Compatibility - what exactly is the chemistry going on
between the two of you?
Other essential astrologicalservices I offer are:
Birth Astrology Chart-clarifies your inborn gifts and talents
Progressed Chart-helps pinpoint life cycles and major turning points
Electional Astrology-choose the most auspicious times for weddings, home or car buying, store openings, surgery dates,etc.

Solar Return-useful for forecasting upcoming annual trends
Childscope-provides precious insight into your child's personality
Relocation chart-examines your challenges and talents in a city other than your birthplace.

Business charts-for business openings, expansions, and incorporation dates.

E Readings Astrological Reports-makes an insightful, unique GREAT GIFT! Give an uncommon gift that truly keeps on giving.

---
There are a variety of ways to contact me:
email andrea@virgoinservice.com for a free brochure
voicemail at 510-874-4911
write me at PO Box 12374, Berkeley, CA 94712
services | relationship compatibility | monthly horoscope


Star Players | about me | celestial magic | resources | E-readings
Andrea's Baseball Page
FanFests
Baseball Articles
Sports Astrology
Andrea on ESPN
Benefits of Sports Astrology
| | |
| --- | --- |
| Top of Page | |